<![if !vml]>
<![endif]> <![if !vml]>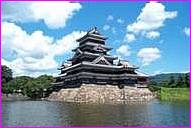 <![endif]> <![if !vml]>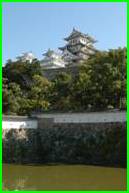 <![endif]>
<![if !vml]>

<![endif]>
Above is the Chinese character ('Kanji') for the word 'castle'.
In Japan, the above character is pronounced 'SIRO', 'JO', or 'JIRO' depending on its usage.
In general, it is pronounced 'SIRO' when used alone, and is pronounced 'JO' in conjunction with castle name (i.e. Edo-jo means Edo Castle).
Many Kanji are composed from several simpler characters. 'SIRO' is no exception.
'SIRO' can be broken down into two characters:
<![if !vml]>

<![endif]> <![if !vml]>

<![endif]>
The character on the left is 'TSUCHI' or 'DO', which generally means 'earth' or 'dirt'.
The character on the right is 'SEI' or 'NA-ru', which generally means 'formed' or 'created'.
'SIRO' originally meant any state of fortification, formed from a common building material during the ancient period when the character was first created; namely earth.
Indeed, majority of castles constructed in Japan were for temporary purposes, and once their need no longer existed, they were immediately abandoned. For this reason, many pre-modern era castles are hard to find. Even when found, they are nearly impossible to differentiate from natural geographical formations since they have literally returned to earth centuries ago.
Castles constructed partially from stone, i.e. for more permanent purposes, were not seen in Japan until mid-16th century.
Late 16th century to early 17th century was the technological peak for castles and other Japanese military architecture. Major Japanese castles remaining today were built during this period.
* * *
This site shows major castles of Japan that I have visited.
There are many major castles that I have not visited, and there are countless numbers of minor castles that I have visited yet chose to omit.
* * *
Well, to make a long story short, just click and enjoy the scenery.